Warning
: file_get_contents(http://graph.facebook.com/http://youthcoders.net/recenzje.html): failed to open stream: HTTP request failed! HTTP/1.0 403 Forbidden in
/var/www/old-yc/plugins/content/addthis.php
on line
38
Warning
: file_get_contents(http://graph.facebook.com/http://youthcoders.net/recenzje.html): failed to open stream: HTTP request failed! HTTP/1.0 403 Forbidden in
/var/www/old-yc/plugins/content/addthis.php
on line
38
Warning
: file_get_contents(http://graph.facebook.com/http://youthcoders.net/recenzje.html): failed to open stream: HTTP request failed! HTTP/1.0 403 Forbidden in
/var/www/old-yc/plugins/content/addthis.php
on line
38
Warning
: file_get_contents(http://graph.facebook.com/http://youthcoders.net/recenzje.html): failed to open stream: HTTP request failed! HTTP/1.0 403 Forbidden in
/var/www/old-yc/plugins/content/addthis.php
on line
38
Wpisany przez Patryk yarpo Jar
sobota, 18 lutego 2012 21:12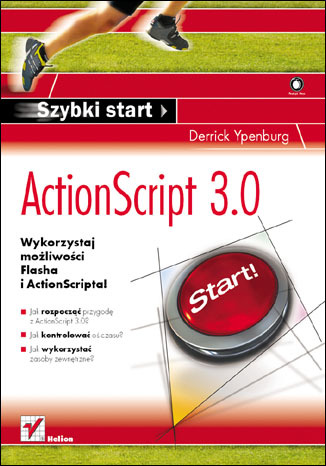 ActionScript 3.0. Szybki start
Technologia Flash jest jedną z najczęściej wykorzystywanych w budowie nowoczesnych aplikacji internetowych.
Książka Derricka Ypenburga sprawia, że nauka języka Action Script jak i obsługi całego środowiska może być łatwa i przyjemna.
Pozycja stawia sobie za cel ambitne zadanie nauczenia programować w Action Script 3.0 osoby, które nigdy nie programowały w żadnym języku.
Trudno mi ocenić, czy ktoś kto naprawdę nigdy mnie programował byłby w stanie nauczyć się pisania kodu obiektowego tylko po tej lekturze. Muszę jednak przyznać, że sposób przedstawiania wielu zagadnień OOP (ang. Object Oriented Programming) jest nietypowy. Sądzę, że powinien trafić do czytelnika.
Książka jest podzielona na 20 rozdziałów, z ktroych każdy dotyczy jednego wycinka możliwości Flash + Action Script 3.0. Według mnie autorowi udało się stworzyć spójną całość. Kolejne zagadnienia wykorzystują poprzednie. Zadania do wykonania są przeważnie nietrudne, a jednocześnie można liczyć na wyjaśnienie co bardziej zawiłych fragmentów.
Jak to często bywa z książkami opisującymi pewne środowiska programistyczne, część zrzutów ekranu może wprowadzać w błąd. Co prawda niewielki i po chwili można dojść co jest nie tak. Najczęściej okazuje się, że coś co w poprzedniej (rzutowej na obrazki) wersji Adobe Flash było checkboksem na dole, teraz jest umiejscowione po prawej, albo w innej zakładce.
Książkę oceniam dobrze. Nie jest to książka z tych, które zwaliła mnie z nóg. Jednak to nie jest też ta kategoria książek. Miała nauczyć programowania w AS 3.0. Pozwolić na tytułowy "szybki start". Uważam, że tę rolę spełnia bardzo dobrze.
ActionScript 3.0. Szybki start
Wydawnictwo helion - 09/2011
<< Początek < Poprzednia 1 2 3

4

5 6 7 8 9 10 Następna > Ostatnie >>


Strona 4 z 21
Najnowsze recenzje
Warning
: Creating default object from empty value in
/var/www/old-yc/modules/mod_latestnews/helper.php
on line
109
Warning
: Creating default object from empty value in
/var/www/old-yc/modules/mod_latestnews/helper.php
on line
109
Warning
: Creating default object from empty value in
/var/www/old-yc/modules/mod_latestnews/helper.php
on line
109
Warning
: Creating default object from empty value in
/var/www/old-yc/modules/mod_latestnews/helper.php
on line
109
Warning
: Creating default object from empty value in
/var/www/old-yc/modules/mod_latestnews/helper.php
on line
109
Warning
: Creating default object from empty value in
/var/www/old-yc/modules/mod_latestnews/helper.php
on line
109
Warning
: Creating default object from empty value in
/var/www/old-yc/modules/mod_latestnews/helper.php
on line
109
Warning
: Creating default object from empty value in
/var/www/old-yc/modules/mod_latestnews/helper.php
on line
109
Najpopularniejsze recenzje
Warning
: Creating default object from empty value in
/var/www/old-yc/modules/mod_mostread/helper.php
on line
79
Warning
: Creating default object from empty value in
/var/www/old-yc/modules/mod_mostread/helper.php
on line
79
Warning
: Creating default object from empty value in
/var/www/old-yc/modules/mod_mostread/helper.php
on line
79
Warning
: Creating default object from empty value in
/var/www/old-yc/modules/mod_mostread/helper.php
on line
79
Warning
: Creating default object from empty value in
/var/www/old-yc/modules/mod_mostread/helper.php
on line
79
Warning
: Creating default object from empty value in
/var/www/old-yc/modules/mod_mostread/helper.php
on line
79
Warning
: Creating default object from empty value in
/var/www/old-yc/modules/mod_mostread/helper.php
on line
79
Warning
: Creating default object from empty value in
/var/www/old-yc/modules/mod_mostread/helper.php
on line
79