Warning
: file_get_contents(http://graph.facebook.com/http://youthcoders.net/recenzje.html): failed to open stream: HTTP request failed! HTTP/1.0 403 Forbidden in
/var/www/old-yc/plugins/content/addthis.php
on line
38
Warning
: file_get_contents(http://graph.facebook.com/http://youthcoders.net/recenzje.html): failed to open stream: HTTP request failed! HTTP/1.0 403 Forbidden in
/var/www/old-yc/plugins/content/addthis.php
on line
38
Warning
: file_get_contents(http://graph.facebook.com/http://youthcoders.net/recenzje.html): failed to open stream: HTTP request failed! HTTP/1.0 403 Forbidden in
/var/www/old-yc/plugins/content/addthis.php
on line
38
Warning
: file_get_contents(http://graph.facebook.com/http://youthcoders.net/recenzje.html): failed to open stream: HTTP request failed! HTTP/1.0 403 Forbidden in
/var/www/old-yc/plugins/content/addthis.php
on line
38
Wpisany przez Patryk yarpo Jar
niedziela, 04 grudnia 2011 17:51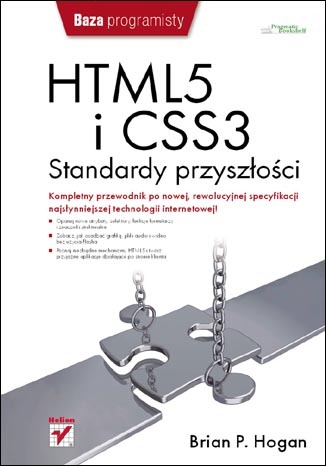 HTML5 i CSS3. Standardy przyszłości
Nadchodzi (kolejna!?) rewolucja w tworzeniu stron internetowych. A może już aplikacji webowych? Tym razem u jej podstaw stać będzie HTML5.
Czym jest HTML5?

To już nie tylko określenie nowej wersji starego, dobrze znanego HTML. To już jest słowo klucz jak Ajax, czy Web 2.0. Wszystko, co nowoczesne powoli zaczyna być po prostu określane mianem HTML5 - w tym nowe rozwiązania JavaScript (jak choćby Canvas, geolokalizacja, localstorage itp.) czy CSS3.
Książka autorstwa Briana Hogana jest najciekawszą z tych, które dotąd czytałem nt. HTML5, ponieważ pisuje tę technologie dogłębnie. Nie pisząc jedynie o kilku nowych znacznikach (kwestia najbanalniejsza) przez ciekawe zastosowania nowych opcji CSS3 (choćby tworzenie kolumn z poziomu określania stylów CSS) po zastosowania JavaScript do tworzenia jeszcze lepszych stron www.
Bardzo podoba mi się kwestia poruszana przez autora przy okazji każdego tematu: co jeśli nie działa. Przeciez wiele z funkcjonalności opisywanych przez Hogana, jeszcze nie jest w pełni zaimplementowana (lub w niektórych przypadkach wcale). I co wtedy? Czytelnik może liczyć, albo na opis odpowiedniej bibliteki odpowiednio łatającej dziury, albo na garść podpowiedzi. To olbrzymi plus książki.
Ogólnie oceniam książkę na bardzo dobrą. Co prawda nie opisuje niczego, czego nie można znaleźć w internecie. Jednak znalezienie tego tak szybko (i to po polsku) byłoby raczej niewykonalne. Z tego powodu polecam książkę jako bardzo przydatne źródło wiedzy do startu w nową erę.
HTML5 i CSS3. Standardy przyszłości
Wydawnictwo helion - 07/2011
<< Początek < Poprzednia 1 2 3 4

5

6 7 8 9 10 Następna > Ostatnie >>


Strona 5 z 21
Najnowsze recenzje
Warning
: Creating default object from empty value in
/var/www/old-yc/modules/mod_latestnews/helper.php
on line
109
Warning
: Creating default object from empty value in
/var/www/old-yc/modules/mod_latestnews/helper.php
on line
109
Warning
: Creating default object from empty value in
/var/www/old-yc/modules/mod_latestnews/helper.php
on line
109
Warning
: Creating default object from empty value in
/var/www/old-yc/modules/mod_latestnews/helper.php
on line
109
Warning
: Creating default object from empty value in
/var/www/old-yc/modules/mod_latestnews/helper.php
on line
109
Warning
: Creating default object from empty value in
/var/www/old-yc/modules/mod_latestnews/helper.php
on line
109
Warning
: Creating default object from empty value in
/var/www/old-yc/modules/mod_latestnews/helper.php
on line
109
Warning
: Creating default object from empty value in
/var/www/old-yc/modules/mod_latestnews/helper.php
on line
109
Najpopularniejsze recenzje
Warning
: Creating default object from empty value in
/var/www/old-yc/modules/mod_mostread/helper.php
on line
79
Warning
: Creating default object from empty value in
/var/www/old-yc/modules/mod_mostread/helper.php
on line
79
Warning
: Creating default object from empty value in
/var/www/old-yc/modules/mod_mostread/helper.php
on line
79
Warning
: Creating default object from empty value in
/var/www/old-yc/modules/mod_mostread/helper.php
on line
79
Warning
: Creating default object from empty value in
/var/www/old-yc/modules/mod_mostread/helper.php
on line
79
Warning
: Creating default object from empty value in
/var/www/old-yc/modules/mod_mostread/helper.php
on line
79
Warning
: Creating default object from empty value in
/var/www/old-yc/modules/mod_mostread/helper.php
on line
79
Warning
: Creating default object from empty value in
/var/www/old-yc/modules/mod_mostread/helper.php
on line
79