Warning
: file_get_contents(http://graph.facebook.com/http://youthcoders.net/recenzje.html): failed to open stream: HTTP request failed! HTTP/1.0 403 Forbidden in
/var/www/old-yc/plugins/content/addthis.php
on line
38
Warning
: file_get_contents(http://graph.facebook.com/http://youthcoders.net/recenzje.html): failed to open stream: HTTP request failed! HTTP/1.0 403 Forbidden in
/var/www/old-yc/plugins/content/addthis.php
on line
38
Warning
: file_get_contents(http://graph.facebook.com/http://youthcoders.net/recenzje.html): failed to open stream: HTTP request failed! HTTP/1.0 403 Forbidden in
/var/www/old-yc/plugins/content/addthis.php
on line
38
Warning
: file_get_contents(http://graph.facebook.com/http://youthcoders.net/recenzje.html): failed to open stream: HTTP request failed! HTTP/1.0 403 Forbidden in
/var/www/old-yc/plugins/content/addthis.php
on line
38
Wpisany przez Patryk yarpo Jar
czwartek, 07 czerwca 2012 13:12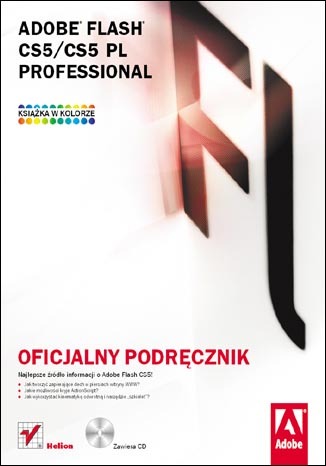 Adobe Flash CS5/CS5 PL Professional. Oficjalny podręcznik

Adobe Flash jest jedną z częściej wykorzystywanych technologii internetowych. Mimo dużej konkurencji ze strony HTML 5 nadal posiada bardzo mocną pozycję, a programiści znający Action Script są w cenie.

Książka "Adobe Flash CS5/CS5 PL Professional" próbuje wprowadzić początkującego w wielki świat animacji flash.

Każda kolejna lekcja jest listą kroków. Całość zdaje się być ułożona starannie i z wyczuciem. Kolejne lekcje wykorzystują wiedzę zdobytą wcześniej. Na pewno dużym plusem jest fakt, że "Adobe Flash ..." jest oficjalnym podręcznikiem wspieranym przez Adobe. Także bardzo przydatnym do sprawdzenia własnych postępów jest seria pytań po każdym dziale.

Do książki dołączona jest płyta, dzięki której nauka powinna być prostsza. Szkoda, że samą aplikację i tak trzeba ściągnąć z internetu. Choć w przypadku dobrego łącza nie jest to wielki problem. Tu pojawia się też inny problem z tego typu książkami - ich krótki czas przydatności. Z pewnością w następnej wersji okienka ze zrzutów ekranu (których jest naprawdę sporo - to akurat plus) staną się mylące. Należy pamiętać jednak, że jest to podręcznik do tej konkretnej wersji.
<< Początek < Poprzednia 1

2

3 4 5 6 7 8 9 10 Następna > Ostatnie >>


Strona 2 z 21
Najnowsze recenzje
Warning
: Creating default object from empty value in
/var/www/old-yc/modules/mod_latestnews/helper.php
on line
109
Warning
: Creating default object from empty value in
/var/www/old-yc/modules/mod_latestnews/helper.php
on line
109
Warning
: Creating default object from empty value in
/var/www/old-yc/modules/mod_latestnews/helper.php
on line
109
Warning
: Creating default object from empty value in
/var/www/old-yc/modules/mod_latestnews/helper.php
on line
109
Warning
: Creating default object from empty value in
/var/www/old-yc/modules/mod_latestnews/helper.php
on line
109
Warning
: Creating default object from empty value in
/var/www/old-yc/modules/mod_latestnews/helper.php
on line
109
Warning
: Creating default object from empty value in
/var/www/old-yc/modules/mod_latestnews/helper.php
on line
109
Warning
: Creating default object from empty value in
/var/www/old-yc/modules/mod_latestnews/helper.php
on line
109
Najpopularniejsze recenzje
Warning
: Creating default object from empty value in
/var/www/old-yc/modules/mod_mostread/helper.php
on line
79
Warning
: Creating default object from empty value in
/var/www/old-yc/modules/mod_mostread/helper.php
on line
79
Warning
: Creating default object from empty value in
/var/www/old-yc/modules/mod_mostread/helper.php
on line
79
Warning
: Creating default object from empty value in
/var/www/old-yc/modules/mod_mostread/helper.php
on line
79
Warning
: Creating default object from empty value in
/var/www/old-yc/modules/mod_mostread/helper.php
on line
79
Warning
: Creating default object from empty value in
/var/www/old-yc/modules/mod_mostread/helper.php
on line
79
Warning
: Creating default object from empty value in
/var/www/old-yc/modules/mod_mostread/helper.php
on line
79
Warning
: Creating default object from empty value in
/var/www/old-yc/modules/mod_mostread/helper.php
on line
79