Warning
: file_get_contents(http://graph.facebook.com/http://youthcoders.net/recenzje.html): failed to open stream: HTTP request failed! HTTP/1.0 403 Forbidden in
/var/www/old-yc/plugins/content/addthis.php
on line
38
Warning
: file_get_contents(http://graph.facebook.com/http://youthcoders.net/recenzje.html): failed to open stream: HTTP request failed! HTTP/1.0 403 Forbidden in
/var/www/old-yc/plugins/content/addthis.php
on line
38
Warning
: file_get_contents(http://graph.facebook.com/http://youthcoders.net/recenzje.html): failed to open stream: HTTP request failed! HTTP/1.0 403 Forbidden in
/var/www/old-yc/plugins/content/addthis.php
on line
38
Warning
: file_get_contents(http://graph.facebook.com/http://youthcoders.net/recenzje.html): failed to open stream: HTTP request failed! HTTP/1.0 403 Forbidden in
/var/www/old-yc/plugins/content/addthis.php
on line
38
Wpisany przez Patryk yarpo Jar
sobota, 10 września 2011 21:26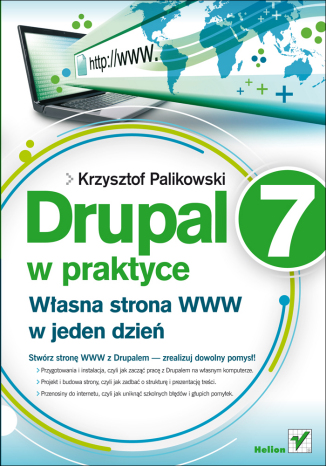 Drupal 7 w praktyce. Własna strona WWW w jeden dzień
Drupal jest jednym z najpopularniejszych i najlepszych CMS-ów. Krzysztof Palikowski w swojej książce zawarł komletny przewodnik, który krok po kroku uczy jak tworzyć stronę z wykorzystaniem tego systemu.
Za duży plus uznaję bardzo szczególowe rozpisanie przez autora zadań. W książce można znaleźć rzadko spotykane opisy instalacji środowiska, na którym działać będzie drupal na naszym lokalnym komputerze. Każdy opis jest okraszony dużą liczbą zrzutów ekranu, pozwalających jeszcze dokładniej zrozumieć treść.
Inną rzeczą, która mi się spodoba jest spora liczba uwag, wyjaśniających kwestie poboczne lub próbujących odpowiedzieć, co jeśli coś nie działa jak wcześniej opisano (choć jak znam życie to nie znaczy, że uda się przewidzieć wszystkie takie sytuacje).
Miałem nadzieję, że będzie torchę więcej kodu, ale to może moje zboczenie. Z drugiej strony należy też pamiętać, że raczej książka jest kierowana do innych odbiorców - ludzi, którzy niekoniecznie na codzień programują, a chcą mieć swoją stronę, zbudowaną z klocków dostarczonych przez Drupala.
Myślę, że wszystko, co znajduje się w książce można byłoby znaleźć w internecie. Jestem też przekonany, że często byłoby podane w dużo trudniejszej do przyswojenia formie, jak i czas potrzebny na znalezienie tych informacji (pewnie często po angielsku) zniechęciłby niejednego.
Polecam tę książkę jako solidną pozycję.
Drupal 7 w praktyce. Własna strona WWW w jeden dzień
Wydawnictwo helion - 07/2011
<< Początek < Poprzednia 1 2 3 4 5 6 7

8

9 10 Następna > Ostatnie >>


Strona 8 z 21
Najnowsze recenzje
Warning
: Creating default object from empty value in
/var/www/old-yc/modules/mod_latestnews/helper.php
on line
109
Warning
: Creating default object from empty value in
/var/www/old-yc/modules/mod_latestnews/helper.php
on line
109
Warning
: Creating default object from empty value in
/var/www/old-yc/modules/mod_latestnews/helper.php
on line
109
Warning
: Creating default object from empty value in
/var/www/old-yc/modules/mod_latestnews/helper.php
on line
109
Warning
: Creating default object from empty value in
/var/www/old-yc/modules/mod_latestnews/helper.php
on line
109
Warning
: Creating default object from empty value in
/var/www/old-yc/modules/mod_latestnews/helper.php
on line
109
Warning
: Creating default object from empty value in
/var/www/old-yc/modules/mod_latestnews/helper.php
on line
109
Warning
: Creating default object from empty value in
/var/www/old-yc/modules/mod_latestnews/helper.php
on line
109
Najpopularniejsze recenzje
Warning
: Creating default object from empty value in
/var/www/old-yc/modules/mod_mostread/helper.php
on line
79
Warning
: Creating default object from empty value in
/var/www/old-yc/modules/mod_mostread/helper.php
on line
79
Warning
: Creating default object from empty value in
/var/www/old-yc/modules/mod_mostread/helper.php
on line
79
Warning
: Creating default object from empty value in
/var/www/old-yc/modules/mod_mostread/helper.php
on line
79
Warning
: Creating default object from empty value in
/var/www/old-yc/modules/mod_mostread/helper.php
on line
79
Warning
: Creating default object from empty value in
/var/www/old-yc/modules/mod_mostread/helper.php
on line
79
Warning
: Creating default object from empty value in
/var/www/old-yc/modules/mod_mostread/helper.php
on line
79
Warning
: Creating default object from empty value in
/var/www/old-yc/modules/mod_mostread/helper.php
on line
79